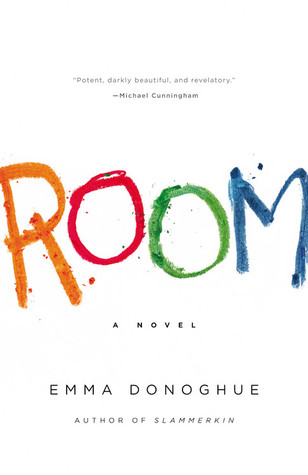 Room by Emma Donoghue is fascinating. Disturbing, but fascinating. It is about a college aged girl who was kidnapped and stowed away in a modified sound proof shed. While kept there for seven years she was subjected to rape by her captor and gets pregnant. The story is narrated by that child. Jack is five years old and the only world he knows is Room. Jack's Ma has created a life for him. She realizes that she needs to do all she can to get them both out of Room and free. Through grit, resourcefulness, and an abundance motherly love, she figures out a way to escape with Jack's bravery and help.
I cried throughout this book. Not little dainty sniffles and corner of my eye dabs but sobs and a water fall of tears pouring down my face as I read it. The entire story comes out of Jack's mind and heart.  He learns that the planets on TV are real and that there is a whole other life in outer space.
As for Ma, she is still a gentle young girl whose tough determination crumbles once she is out of Room. While Jack is learning how to live and love in a new world, Ma is trying to emotionally and mentally escape it.
As if reading this heart wrenching book wasn't enough torture, I then watched the movie. Though not as emotionally moving as reading the book it was still an amazing glimpse in to a mother and son's survival.
Please read the book first. The movie leaves out so much of what makes Jack such a lovable character.
Be forewarned. Grab a box of tissues. Don't read Room in public or you will risk embarrassing yourself.